Self-Care Guide for Parents of Children in their Mental Health Needs
October 30, 2019
As a parent, you want the best for your children's mental health. This guide is for parents to help children understand, protect and sustain their mental health daily.
Recent statistics on children's mental health in America highlight the importance of family mental health services in Colorado and other parts of the country today.
"One-third of children with at least one deployed parent have had psychological challenges such as depression, anxiety, and behavioral disorders." - American Psychological Association
"Colorado's teen suicide rate has climbed from 12 suicides per 100,000 teens in 2014 to 21 deaths per 100,000 teens in 2017, the highest on record since the state health department began in 1980 a detailed tracking by age group." - The Colorado Sun
A Sad and Desperate Young Girl (Image Source: Pixabay)
These reports indicate that more children are undergoing a form of mental health problems. Thus, more parents need help in dealing with these issues. However, the lack of mental health services, resources, and other factors make it more difficult for parents to provide proper care and support to a child undergoing mental health problems.
The Important Role of Parents in Children's Mental Health
Experts agree that parents or caregivers have a significant role when it comes to the mental health of children. Parents or caregivers are the first people children interact with. Therefore, they greatly influence the shaping of children's personalities, characteristics, behaviors, and values.
Facilitating the healthy development of the mental health of their kids is important. It takes more than just giving them clothing, food, housing, and other necessities. Parents have to be appropriate role models and provide guidance and instruction to facilitate the development of their children's good mental health.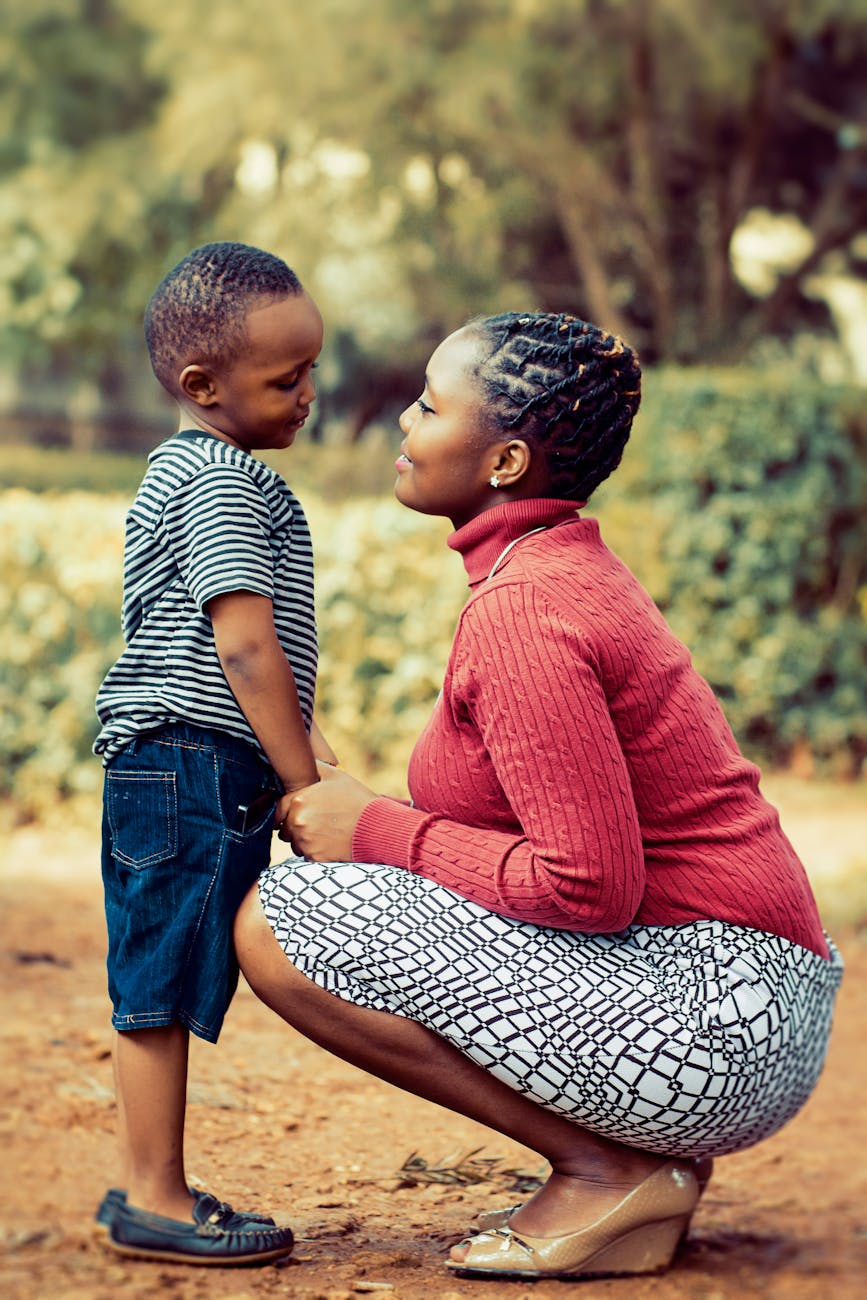 Mother Sitting in Front of Her Child (Image Source: Pexels)
Parent's Challenges in Dealing with Children's Mental Health
Several factors in today's society make it even more challenging for parents or caregivers to appropriately care for the mental health of their children. Here are some of the primary challenges:
Understanding of One's Self
From the moment children are born, the way their parents perceive and interact with them can greatly affect their self-esteem, self-image, and overall emotional and mental well-being. Still, rearing healthy and well-balanced kids is extra challenging in today's world where parents face more parenting challenges.
Modern Technology
For example, easy internet access means kids are more exposed to harmful online content and cyberbullying. Additionally, today's children must groom their self-image, manage peer pressure, and accept diversity in a fast-changing world. Aside from environmental factors, parents also have to deal with parenting challenges.
Previous Family Situation
If you are a single parent or part of a blended family, you will be having challenges in taking care of a child with special needs. There is also the case of having a job that requires them to be away from their family for long periods, such as serving in the armed forces. It can sometimes affect the dynamics of your family from functioning as well as you like.
We here at the Family Care Center know that veterans and those who are actively serving the country experience life changes. That is why we provide family behavioral health therapy Colorado services. The services offer support to families who are seeking assistance in solving family conflicts and other issues involving mental and emotional health.
Father Comforting his daughter while sitting (Image Source: Pixabay)
Mental Health Issues of Parents that Affect their Parenting Methods
What is one of the most common mental health problems new parents have? Here are some of the issues that hinder their parent methods.
Postpartum Depression (PPD)
According to the Centers for Disease Control and Prevention, one out of nine women experience symptoms of postpartum depression (PPD). But it is not only the mothers who are prone to depression after becoming a new parent. New fathers are also prone to PPD. Five to ten percent of new dads in the United States undergo PPD.
But since many men aren't aware and, as a result, do not report that they experience PPD, that number could be bigger. Aside from postpartum depression, parents can also be experiencing other forms of mental health problems, such as PTSD (post-traumatic stress disorder) or anxiety, which can also affect their children's overall wellness.
Anxiety
As the world keeps on evolving so does our understanding of mental health. As society and people change with the times, there are mental health issues that families face today which weren't as widely known or common in past decades.
For instance, experts can now identify more types of eating disorders rather than just anorexia or bulimia. Additionally, while most people believe that depression is the most common form of mental disorder, recent reports show that it is anxiety which is the world's biggest mental health problem today.
Absence of Support System and Resources
Most parents can attest to how challenging it is to raise a family in these current times. Yet, with community support and resources, parenting can be a more manageable job. Sadly, not all parents have access to resources and the support they need to take care of their kids' necessities, what more of their children's mental health needs.
As much as parents want to protect their children from the world, parents have to face the reality that some harmful influences are just beyond their control. And as much as parents want to provide for all the needs of their children, there are certain life circumstances which may prohibit them from doing so.
Support Parents and their Children with Family Mental Health Services in Colorado
By offering parents support, resources, and services that assist them in providing better overall care for their kids, parents can improve their parenting skills that can have positive long-term effects on their children's mental health.
That is why we at the Family Care Center want to provide you with valuable tools and helpful skills to appropriately deal with family conflict, mental health issues, and other problems that are affecting family members.
If you are a parent or caregiver looking for options for family therapy in Colorado Springs, call 719-540-2100 and get in touch with us here at the Family Care Center. If you feel you are ready to schedule therapy and provide us with information for a faster and smoother process, please fill out the appropriate forms.